Fast, Affordable and Professional Bathroom Remodeling Services in Armonk, NY and Surrounding Areas
Are you tired of looking at your old, outdated bathroom? Are you ready to make some upgrades for better comfort, efficiency, and space? Then, contact Gleason Plumbing & Heating LLC for fast, reliable, and top-notch quality bathroom remodeling and renovation services today. We can help you transform your bathroom from start to finish, and ensure your specifications are met when we deliver our final results. We proudly serve the residents of Mount Pleasant, Armonk, Bedford Hills, Chappaqua, and White Plains, NY.
As a full service plumbing company, we are well licensed, insured, and experienced in handling any scope of work, including complex system design and new construction projects. We stand behind our work with a 100% satisfaction guarantee. Give us a call at (914) 960-6536 to schedule an appointment with one of our courteous and friendly bathroom remodeling experts in Armonk, NY.
We Bring Your Bathroom Vision to Life
No matter where you're in the planning process, our bathroom remodeling services will make your bathroom dream a reality. We will help you design and remodel your bathroom using high quality products, installed by our experienced and knowledgeable technicians. We are a service-oriented company and we believe in doing things right the first time. We never take shortcuts! Our team will pay critical attention to every detail of your bathroom remodeling project and constantly look for ways to improve functionality, safety, and aesthetic appeal. We want your dream bathroom to be a relaxing paradise, the perfect place to start and end each day.
Top Benefits of Bathroom Remodeling in Armonk, NY and Beyond
Greater Comfort
Functionality is everyone's first priority however that does not mean we cannot add lavish features for style or personal preference sake. A spa-style showerhead, a heated floor, and even a fireplace can all adorn your new bathroom for unmatched luxury.
Increase Value of Your Home
A bathroom remodel can significantly increase the value of your home. By replacing old, outdated features with modern and efficient sinks, toilets, and baths, you can increase the value of your home by up to $3000. Aside from getting a higher return on investment, you will get the peace of mind that your house will be easier to sell.
Energy Efficiency
Many modern appliances available today come with features that allow homeowners to save money on their utility bills. While older toilets use several gallons of water for each flush, modern ones use sufficiently less water to flush. Energy-efficient items like low-flow toilets and water-saving showers are just as comfortable and easy-to-use as non-energy efficient products. Installing these modern appliances can help you save money in the long run.
At Gleason Plumbing & Heating LLC, we pride ourselves on providing the ultimate bathroom remodeling experience. Your bathroom remodeling project is not just another job for us, but rather an opportunity to make your dreams a reality. Since 1980, we have been serving our communities in Mount Pleasant Area, Armonk, Bedford Hills, Chappaqua, and White Plains, NY. To learn more about our bathroom remodeling services, call (914) 960-6536.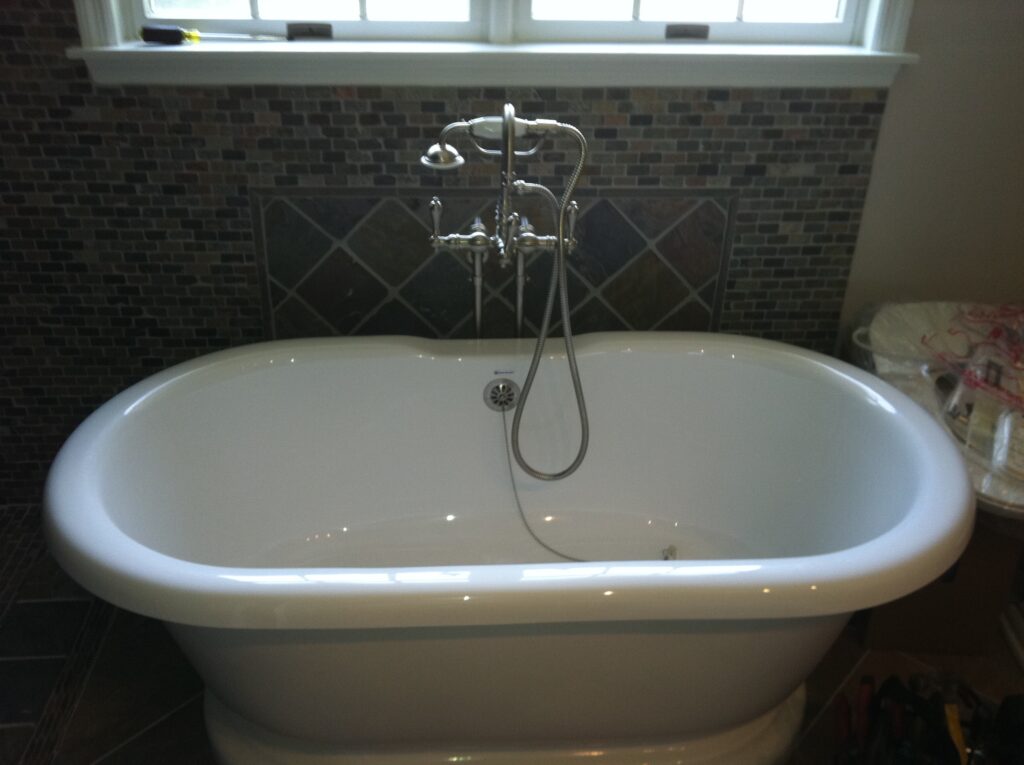 Customer Satisfaction is Our Number #1 Goal
At Gleason Plumbing & Heating, customer dependability and satisfaction is our very top priority, and we are never happy unless our customers are. For this reason, our plumbers work diligently to go above and beyond to meet and exceed our customers' expectations. We take pride in completing every single job with the care and attention that it deserves, with no substitutions for a job done right. Schedule an appointment with our Award Winning Plumbers in Armonk, NY today.
The absolute best plumbers in the business. Attention to detail and extremely knowledgeable about new products to consider in my decision. Very transparent on pricing as well.
Excellent and very professional yet friendly and courteous. I've been using this company for a long time, and they do a great thorough job each and every time.
We are a service-oriented company, and we NEVER take shortcuts in anything that we do. Our main objective is pleasing our customers with the highest quality of service, professionalism, reasonable prices, and prompt service. From upgrading fixtures to installing appliances, Gleason Plumbing & Heating LLC provides quality and complete service from start to finish. We stand behind our work with a 100% satisfaction guarantee